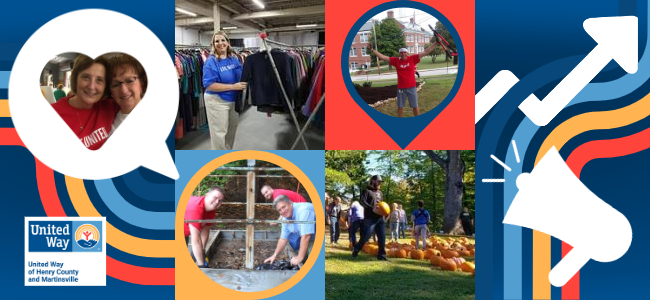 UWHCM Day of Action: Requests Community Project Proposals

This year's Day of Action is meant to be all about Henry County and Martinsville, our people, our businesses, our employers, and our community.
MARTINSVILLE, VA, May 25, 2023 – United Way of Henry County & Martinsville (UWHCM) announced today that their annual "Day of Action", will be held on September 22, 2023. The event serves as a community-wide call-to-action, where local organizations and volunteers come together to do as much service as possible in a single day. Last year, the organization was able to rally over 100 volunteers to participate in a total of 8 projects, spread out over two days: totaling over 500 hours of collective service in just one single event.
This year, UWHCM hopes to bring more focus to the Uptown Martinsville district, by hosting a volunteer breakfast at New College Institute and investing in local catering options to serve guests. Each pre-registered volunteer will receive a Royal Blue "Live United" T-shirt, while supplies last. UWHCM asks that volunteers attending the breakfast bring one or two canned or non-perishable food items to be donated to a local food pantry at the end of the event. Volunteers can pre-register themselves or a group for the event at "www.unitedwayofhcm.org/volunteer".
"Day of Action is all about Martinsville and Henry County. We want to do our best this year to emphasize our local organizations. We hope to highlight, revitalize, and refresh area resources and programs that have been helping people for years now... It's about sustainability, it's about continuing to ensure each person in Martinsville and Henry County has the opportunity to grow to their full human potential." ~ Rebecca Conter
Martinsville and Henry County non-profits, schools, and government agencies can request volunteers to complete a community project or drive on September 22. UWHCM requests that participating agencies request timeslots beginning at 11:00 A.M. on September 22, 2023. To give all organizations some project flexibility, additional projects may be requested for Saturday, September 23, 2023. Projects can be submitted online via the "Agency Assistance Request: Projects & Drives" Form located at "www.unitedwayofhcm.org/day-action". To ensure enough volunteers are available for each participating project or drive, the deadline for an organization to submit a request is Friday, August 25, 2023 at 5:00 P.M. EST.
About United Way of Henry County and Martinsville:
For more than 85 years, with the help of our volunteers and donors, UWHCM drives change by providing community-elected funding to local agencies who focus on measurable solutions to local education, financial stability, health, and emergency needs. We are neighbors helping neighbors: We view these focus areas as essential to improve our most vulnerable families' quality of life, promote communal growth, and successfully Live United in our hometown. United Way strives each day to see a world where we can all #LIVEUNITED.